Top 3 Best Climbing Tree Stands will blow your mind
As clearly explained in our last post, having a climbing tree stand is a must for big time hunters. The height advantage and flexibility it offers are simply too marvelous to pass. After having this understood, the question remains, is there the Best Climbing Tree Stand – Buyer's Guide for you to refer?
Obviously, to each their own. The best option for you would depend on your style of hunting and the terrain that your game often takes place. By having these questions answered, you'll know you're aiming at stands specialized in comfort or utility, or having the best of both worlds.
Here we have compiled a list of the three best choices offered today, which all met the required standards from Tree Stand Manufacturers Association (TMA).
Lone Wolf Assault Hand Climber
Strikingly small and light, the Assault has won hunting enthusiasts the world over due to its eclipsing advantages. Weighing at about 15 pounds, this excellent climber could fold as flat as a pizza box. This newest edition from Lone Wolf is made from cast aluminum that makes the installation process produce much less sound.
Also, bow users will love this since the climber offers a bow holder. What about the down points? Price.  Lone Wolf is selling it at $400, the most expensive in our three picks. Besides, we tested the Assault and found its platform not too firm, with the seat quite uncomfortable. If you're more likely to be on the move with your game, then this is your ideal climbing stand. Learn more about it here.
Summit Viper SD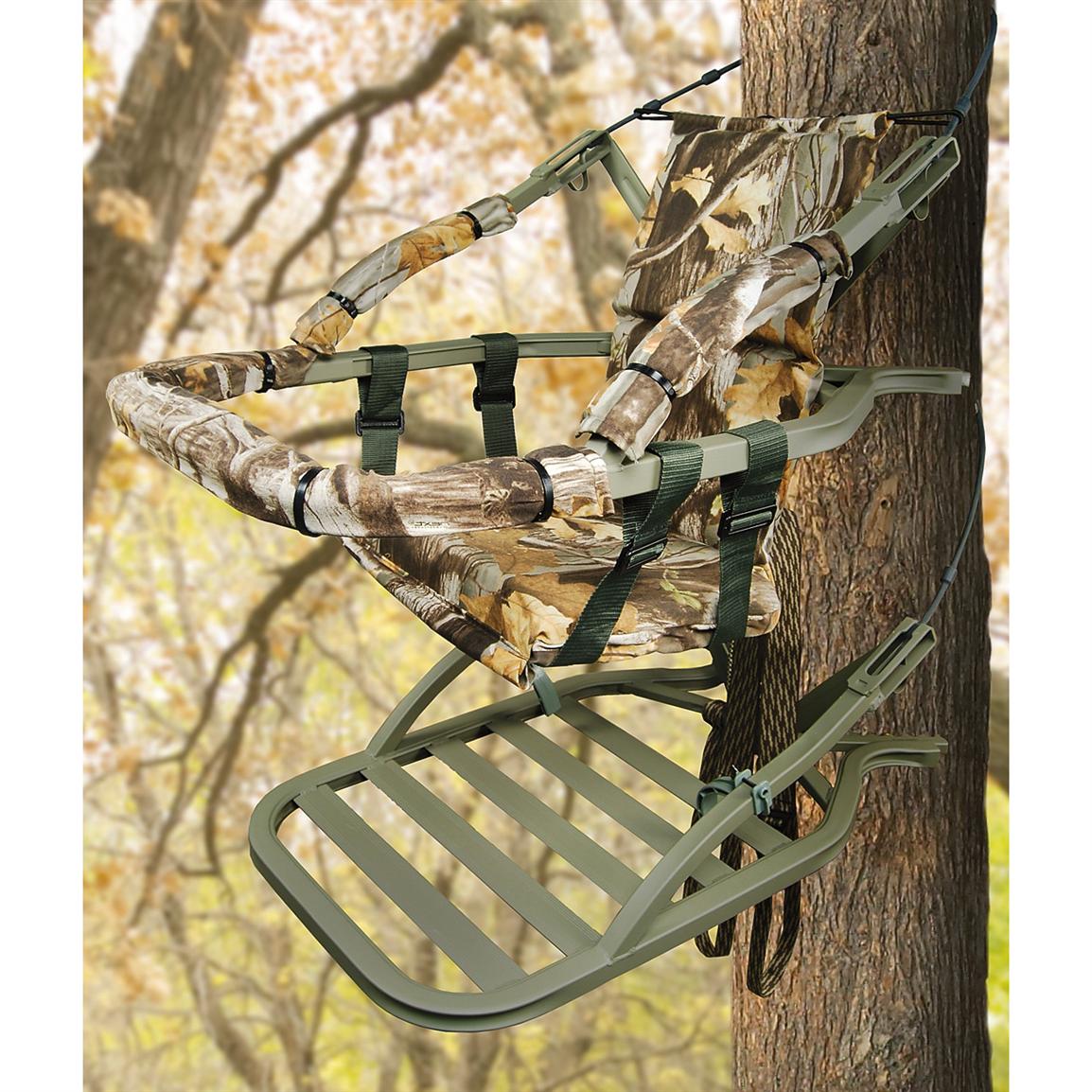 The Viper might be a more versatile choice for hunters since it offers more comfort with its front bar and heavily padded seat. This tree stand adds extra security for all of us and ensures the maximal comfort while you wait for your chances. A bit heavier than the Lone Wolf's, weighing at 20 pounds, this climbing stand is also not as compact. What's special about the Viper is it employs tubes filled with foam that makes it undetectable silent. Offered at $275, this climber will do well in most cases for most types of hunting enthusiasts.
Gorilla Greyback Stealth HX Climber
Our last pick is dedicated to hunters who have asmall budget. Available at about $200, the Gorilla Greyback might be a bit difficult to install in low light conditions, impossible even in the dark using merely a flashlight, since it employs a cable and pin system which requires connecting. A bit heavier than other options, the Greyback Stealth HX comes with the fold down arms and back straps. Its plus point is the front bar which secures you nicely in place while acting as a rest for your gun. If you don't plan on moving much and need a comfortable stand, this should be your choice. Check it out here.
It's almost always certain that you're better off with a tree climbing stand if you're a serious hunter. Planning ahead your hunting style and place will make your purchase more advantageous. All in all, rest assured that any climber is better than none.
About the Author
David Ferraro: I have a thirst for amazing escapades, and I made this site as a proof of my commitment for an adventurous life. I established this site to serve as a helping hand to individuals who share some common grounds with me.